When it comes to what the bridal party will wear, the bride's opinion trumps everyone else's. It's the bride's big day and her good friends in the wedding party need to remember that. But, that being said, there are plenty of ways to choose a bridesmaid dress that everyone will love.
Silhouette
One of the best ways to ensure your bridesmaids all like their dresses is to choose a shape that flatters all of them. Unless you chose your bridesmaids by their height and shape, chances are, you will have a mixed group of attendants. Some will be tall, others short. Some may have a fabulous figure, while other have more curves and others still have virtually none. If you are intent on everyone wearing the same style dress, look for a silhouette that flatters most shapes.
One of the most flattering styles is the A-line bridesmaid dresses. It's named A-line because it is slimmer at the top and flares down to the hem, forming an "A" shape. Similarly, an empire cut is fairly snug on top, but the skirt starts flaring out right under the bust. As a result of their silhouettes, both A-line and empire dress are very forgiving cuts. No one will notice a thicker waist or ample hips. Neither silhouette over-emphasizes the bust, which is a good thing for a bridesmaid dress.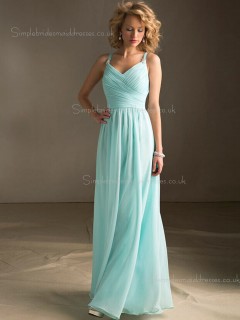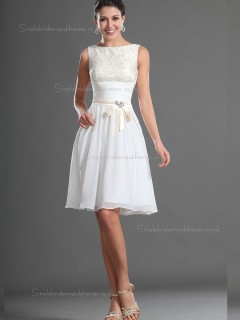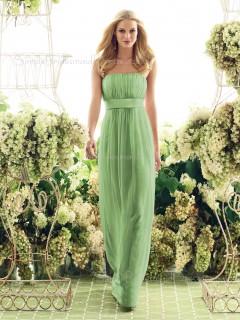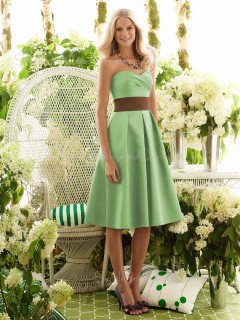 Silhouettes that look best on shapely young ladies are the sheath, which is a straight cut, or a mermaid dress, which wraps the body tightly and then flares out starting at the knees. If your bridal party has a mixture of figures, as most bridal parties do, it's best to avoid these cuts.
Wear Again
Another way to keep your bridal party happy is by choosing a bridesmaid dress that they could wear again. Let's face it: most bridesmaid dresses are fabulously formal. Unless you're attending a black tie affair, you are not likely to wear most full-length bridesmaid dress again. But today, "wear again" dresses are very popular. They are short and strapless and look like something you would wear to a cocktail party or even a wedding where you are not in the bridal party! The trick is finding one that is formal enough for your wedding – and one that is a flattering silhouette for all the bridesmaids.
If you want a formal look, choose a dress in a satin fabric, or even one with a chiffon overskirt. If your wedding is less formal, there are plenty of options – from beautiful prints, cotton sateen, rich charmeuse and even embellished lace materials. If the wedding is a backyard or beach affair, look for something in cotton pique or cotton sateen.
Mix the Colours
With some bridesmaids, the problem with a dress is that the colour is not becoming on them. If you have a flaming redhead in the bridal party, you probably should not dress her in yellow or red. If some girls are very tan and others are lily white, the colour of the dress will really vary on them. One answer might
be to have the same style dress, but let the bridesmaids choose the colour that looks best on them. You probably ought to establish a pallet of colours from which you let them choose – like various shades of pink or sage green bridesmaid dresses. Within the family of any one colour, there is bound to be a shade
that is flattering to everyone.
Mix the Styles
You can also switch it up and pick the colour, but let the bridesmaids choose the style of dress that they want to wear. The result will be a terrific look. The colour will be consistent, but every bridesmaid will be wearing a style that best suits her figure. Of course, you do not want to mix short and long dresses, and you may want everyone to have the same neckline. But other than that, the bridesmaids can find a lot of variations from which to choose their dresses.
Be Age Appropriate
Another consideration is to keep the bridesmaids' dresses age appropriate. Of course, the flower girls will wear something different – oftentimes white, like the bride. In fact, mini bridal gowns are very popular now. But if you have a junior bridesmaid, you need to find a dress that lets her feel a part of the bridal party, but does not try to dress her in a style that is too old for her. Today, it's easy to find a sophisticated, but modest dress for the junior bridesmaid. You won't find a strapless cut, but you'll find spaghetti straps, full-length styles and fabulous fabrics. She can feel a part of the party, but stay true to her age.
When choosing your sage green bridesmaid dresses, remember that there are plenty of ways to keep everyone happy.